I started maternity leave yesterday and despite everyone's suggestions at just resting, sleeping and putting my feet up...I'm on a bit of a mission! Planning some cooking sessions while I still have just about enough energy and thought I'd post some of my planned concoctions/recipes on here in case anyone wants to steal them or adapt them.
Obviously, there is nothing special about these recipes - they have no special qualities other than being easy to prepare, easy to freeze and yummy without much effort at the other end.
So, starting off with a family favourite - I call this American Lasagne, only because it was given to me while I was in Tennessee last year and it is a layered beef and pasta dish. Officially, the recipe is called Company Casserole: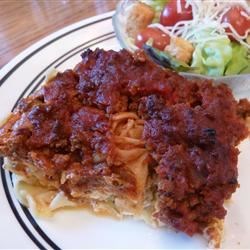 Winny Palmer's ( Arnold's wife)
Company
Casserole
1lb lean ground beef mince
1-2 cans chopped tomatoes (I prefer to use 2)
1 tsp. garlic powder
1 8oz. carton sour cream
1 " " cottage cheese
1 " pkg. cream cheese softened
(all these can be low or nonfat)
1 bunch chopped spring onions
8oz bag egg noodles or tagliatelle
Brown ground beef. Add garlic powder & tomatoes, simmer for 20 min.
Mix cheeses and spring onions together.
Cook noodles/pasta in salted water as directed on box.
Assemble: pour 1/3rd meat & sauce on bottom of 1 1/2 qt.
casserole
dish, place 1/2 noodles next, then 1/2 cheeses , 1/3 meat sauce, last half of noodles and cheeses and meat sauce to cover.
Bake 375F 190 C Gas 5 degrees on a baking tray in case of overflow.
45 min cooking time. let stand 10 min before serving.
This quantity has made enough for us 3 (2 adults and 1 child) to eat 2 days in a row - a massive portion on the first night and a good portion with salad on the second night! It is so good when it is left over for the next day. You can make this a day ahead and refrigerate, then bake it when you are ready to serve or it freezes well if you do the mince in advance and freeze in batches and then add the other elements when you're ready.
Enjoy!